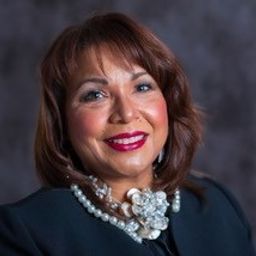 Regine Pappas MD. President of WIO
Dr. Pappas is a Board-Certified Ophthalmologist – Eye Surgeon and Fellowship trained Glaucoma Specialist.
She has been in private practice in Melbourne Florida since 2000. She is the founder and President of Pinnacle Eye Center. She received her medical education at the University of Cincinnati and then completed a residency program in ophthalmology at Howard University Hospital in Washington DC. She went on to complete a one-year ophthalmology fellowship program in glaucoma at the University of Maryland. Dr. Pappas is serving as our WIO President.
Dr. Pappas is originally from Port Au Prince, Haiti. She is married for 38 years to Costas Pappas, who is the co-founder of Pinnacle Eye Center and serves on the board and as Chief Financial Officer for the practice. He was a consultant for many years working with the aircraft jet engines industry. They have two sons, a daughter in law and two grandchildren. Her son Alex, is in his second year as an associate in the practice and Constantine, is a Business law attorney in New York. Her grandson Lucas is a big brother to baby sister Sophia.
Sessions in which Regine Pappas MD participates
9:45 AM - 10:45 AM | 1 hour

Learning ObjectivesAt the end of this symposium, participants will be able to:Navigate challenges women i...