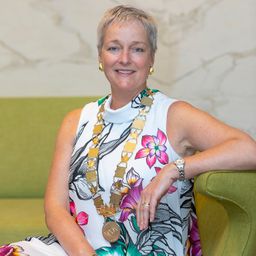 Yvonne Buys
Past President, COS | Ancien président, SCO
Past- president, Canadian Ophthalmological Society
Professor, Department of Ophthalmology and Vision Sciences, University of Toronto
Co-Director, Glaucoma Unit, University Health Network
Research interests: Glaucoma epidemiology; health economics; surgical innovations in glaucoma and cataract; optic nerve imaging; sleep issues in glaucoma; IOP variations, diurnal and positional; and ocular blood flow.
Leadership positions: Annual Meeting chair and board member of the Canadian Ophthalmological Society; Planning Committee member for glaucoma subspecialty day at the American Academy of Ophthalmology; glaucoma section editor for the Canadian Journal of Ophthalmology; past-president of the Canadian Glaucoma Society; past-president and founding member of the Toronto Area Glaucoma Society; noneconomic loss physician for the WSIB; past examiner for the Royal College of Physicians and Surgeons of Canada; member of the College of Physicians and Surgeons of Ontario, the Toronto Hospital Research Institute, among many other organizations. She has published over 130 peer-reviewed scientific papers, 12 invited editorials, and seven book chapters. She has trained over 20 glaucoma fellows from all continents and from countries as far away as Saudi Arabia and Australia.
Special honours: Toronto Hospital Anderson Award (1998); University of Toronto Clive Mortimer Postgraduate Teaching Award (1999); and American Academy of Ophthalmology Achievement Award (2015).
Financial disclosure: Dr. Buys does not have any affiliation (financial or otherwise) with a commercial organization.
Sessions in which Yvonne Buys participates