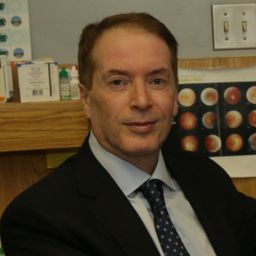 Dr. Jean Deschênes
2023 Planning Committee - Uveitis
Dr. Deschênes is professor of ophthalmology at McGill University. His main clinical and research interests are treating immune-related problems of the eye involving uveitis, cornea, and the anterior segment.

He was the first in the Department of Ophthalmology to become a Chercheur Boursier for the Fonds de Recherche en Santé du Québec for funds to support his work in ocular immunology. Thus, Dr. Deschênes set up a practice centre for seeing patients in ocular immunology dealing with uveitis, external disease and cornea.
In teaching, a new section of ophthalmology, concerning ocular immunology and uveitis, was set up, a facility that was unique in Quebec and Canada and became well known. With all of the developments in ocular immunology occurring at McGill, there were many publications and invitations for Dr. Deschênes to write chapters in prominent textbooks. From the research point of view, his and the research unit's major contribution has been in the understanding of the normal immunology of the eye and the changes occurring in ocular inflammation.
In addition, over the years, innovative treatments were developed in the ocular immunology and AIDS clinics. Beyond the research done and treatments developed at the research ophthalmology immunology unit, it was not long after its creation that the unit began to produce additional ocular immunologists, with fellows and research trainees doing rotations under the direction of Dr. Deschênes. Many of the residents and fellows who worked with Dr. Deschênes are now well established in university centers in Canada, South America and the United States.
Ocular immunology has become an important part of the program for teaching clinical care and research. Its international reputation is growing, and McGill is known as a center where treatment of immune diseases of the eye is first rate with excellent research being done.
In addition to his work at McGill and its hospitals, Dr. Deschênes has also found time to be active in many professional associations including, among others, the Canadian Ophthalmological Society, the Association des Médecins Ophtalmologistes du Québec as president and the International Uveitis Study Group. He has also been an Associate Dean in the Faculty of Medicine and acted as the Residency Training Program Director. Dr. Deschênes is the Ophthalmologist-in-Chief at the McGill University Health Center (MUHC) in Montreal.
The university's reputation as a leading centre in immune disease treatment and research can largely be attributed to Dr. Deschênes' work. He is a first-rate teacher and role model for colleagues and students, combining clinical ophthalmology and research. A prodigious worker, it is fortunate that he is physically strong, a quality that he goes to great lengths to maintain, including having a gymnasium installed in the basement of his house. Despite being incredibly busy and in demand, he always finds time to talk to colleagues and residents. He is indeed a leader in his field and has brought luster to the McGill Department. That he can perform all of the duties of a clinician, as well as those of an internationally known researcher, is indeed remarkable.
Divulgation des intérêts financiers : Le Dr Deschênes a (ou a eu) une affiliation (financière ou autre) avec une organisation commerciale
1.) NIH/NEI
2.) Imprimis
3.) ZEDS
Sessions in which Dr. Jean Deschênes participates
11:00 AM - 12:30 PM | 1 hour 30 minutes

Access the Live Meeting: https://www.yourconference.live/COSLearning...
1:00 PM - 2:30 PM | 1 hour 30 minutes

Learning ObjectivesAt the end of this session, participants are able to:
3:15 PM - 4:45 PM | 1 hour 30 minutes

Learning ObjectivesAt the end of this se...