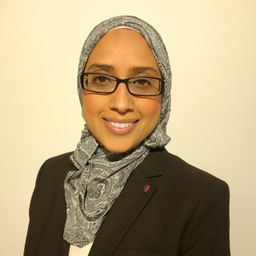 Dr. Zainab Khan
Committee de planification 2023 - uvéite
Dr. Zainab Khan received her Bachelors of Health Sciences from the University of Ottawa and afterwards completed her Medical Degree at Queen's University. She completed residency training in Ophthalmology at Queen's University where she successfully became a Fellow of the Royal College of Surgeons of Canada. She subsequently completed a fellowship in uveitis at Université de Montréal. She is currently working as an Assistant Professor of Ophthalmology at McGill University and Clinical Lecturer at Université de Montréal. She has clinical appointments at Jewish General Hospital, McGill University Health Centre and l'Hôpital Maisonneuve-Rosemont.

Dr. Khan has received numerous awards including the Professors Prize in Ophthalmology in her graduating medical school class. She has interests in systematic reviews/meta-analyses, ocular inflammation/immunology, patient safety/quality assurance, and medical education. She has published in numerous peer-reviewed journals and presented at several national and international scientific meetings.
Sessions auxquelles Dr. Zainab Khan participe
1:00 PM - 2:30 PM | 1 heure 30 minutes

Objectifs d'apprentissage À la fin de la session, les participants pourront : Savoir reconnaître le...