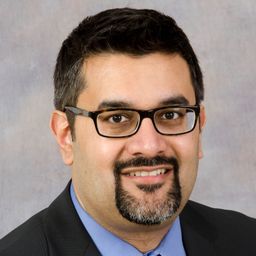 Dr. Asim Ali is the Ophthalmologist-in-Chief at the Hospital for Sick Children and Professor of Ophthalmology at the University of Toronto. He holds the endowed Mira Godard Chair in Vision Research and is Co-Director of the Paediatric Cornea Fellowship. Following an undergraduate degree in Electrical Engineering at the University of Waterloo, he completed his medical degree and residency training in Ophthalmology at the University of Toronto where he was Chief Resident. He then went on to complete dual fellowships in Paediatric Ophthalmology and Strabismus and Cornea and External Disease at Washington University, St. Louis, USA. His clinical work and research focuses on complex anterior segment disorders in children including cornea, cataract, glaucoma and congenital abnormalities, with a special emphasis on corneal transplant and external disease. He has a strong interest in neurotrophic keratopathy (corneal anaesthesia) and is co-developer of the minimally invasive corneal neurotization procedure using sural nerve grafts.
Financial disclosure: Dr. Ali has/had an affiliation (financial or otherwise) with a commercial organization:
1. Santen
2. Novartis
Sessions auxquelles Asim Ali participe
3:15 PM - 4:45 PM | 1 heure 30 minutes

Objectifs d'apprentissage À la fin de la séance, les participants pourront : Savoir quand des optio...