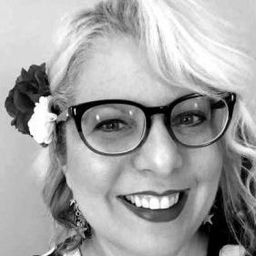 Monica Valentinelli is a writer, artist, and game developer who lurks in the dark. Her ever-expanding portfolio includes short stories, novellas, games, comics, essays, and pop culture reference books.
A frequent guest at conventions, Monica is currently known for creating the Make Art Not War Challenge and her publications set in Whedon's Firefly universe which includes the Firefly: The Gorramn Shiniest Language Guide and Dictionary in the 'Verse (2016), Firefly Encyclopedia (2018), and the award-winning tabletop Firefly RPG line.
Monica holds a B.A. in English with a Creative Writing Emphasis from the University of Wisconsin-Madison. She lives with two very spoiled cats nicknamed Lord Lardbottom and Captain Whinypants, an albino water frog named Al, and her long-time partner. In addition to writing, editing, and developing, she enjoys traveling, designing jewelry, cooking, taking photos, painting, exploring old places, and hiking.
Monica is represented by Jennie Goloboy of the Donald Maass Literary Agency. She is an Active Member of the Science Fiction and Fantasy Writers of America (SFWA) and the International Association of Media Tie-in Writers (IAMTW).
Sessions in which Monica Valentinelli participates
Red Lion Hotel Pasco, WA - 3121- Gaming/Fan Track
5:45 PM - 6:45 PM | 1 hour

Ever wondered how authors, writers, artists, and other creative's work together on the same project without driving each other crazy? Come find out...

Panel
Red Lion Hotel Pasco, WA - 3125- Writing Track
7:00 PM - 8:00 PM | 1 hour

From science to history to magic, the world is full of source material for writes if you only know where to look. Our panel of writers, game design...

Panel
Red Lion Hotel Pasco, WA - 3125- Writing Track
11:30 AM - 12:30 PM | 1 hour

Creating believable religions From the creations of gods to the interpretations of their messages and powers, we will examine how to create religi...

Panel
Red Lion Hotel Pasco, WA - 3125- Writing Track
4:30 PM - 5:30 PM | 1 hour

Ever wonder how magic systems in fantasy are created? In this panel, we'll discuss tips and tricks to create your own magic system using historical...

Panel
Red Lion Hotel Pasco, WA - 3121- Gaming/Fan Track
4:30 PM - 5:30 PM | 1 hour

We've been running games for years and a lot of things have gone both wrong and right. Come learn some of the tricks we use and some of the pitfall...

Panel
Red Lion Hotel Pasco, WA - 3117- Craft/ Costumes
12:45 PM - 1:45 PM | 1 hour

Magic is experiencing a wonderful renaissance in modern storytelling. How do contemporary TV shows like She-Ra, The Dragon Prince, The Witcher, and...

Panel