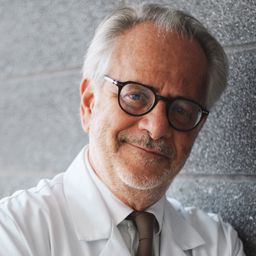 Dr. Allan Slomovic, MSc, MD, FRCSC
2023 Planning Committee - Ocular Regenerative Medicine
Dr Slomovic is the Vice Chair of Education and Continuing Education Director for the Department of Ophthalmology and Vision Sciences at the University of Toronto. He is also the Clinical Director of the Cornea/External Disease Service at the Toronto Western Hospital, University Health Network. He is the past President of the Canadian Ophthalmologic Society and previous Chair of the Canadian Cornea and External Disease Society for the Canadian Ophthalmological Society. Dr Slomovic is a Professor of Ophthalmology at the University of Toronto and the Marta and Owen Boris Endowed Chair in Cornea and Stem Cell Research at the University Health Network.
Prior to starting Medical school, Dr Slomovic completed a master's degree in Clinical Psychology at the University of Montreal. He then went on to do his Medical School training at Memorial University in St John's Newfoundland, followed by an internship in Internal Medicine at The Montreal General Hospital. Dr Slomovic then went on to complete a 3-year residency training program at the New York University School of Medicine in Manhattan, New York. This was followed by 2 separate Fellowship programs at the Bascom Palmer Eye Institute in Miami, Florida. The first fellowship was in Cornea/External Ocular Diseases and the second was in Laser Microsurgery.
Dr Slomovic has been involved with teaching residents and fellows, research and clinical practice over the past 35 years at the University Health Network. He was the program Director for Ophthalmology for the University of Toronto for 10 years (1991-2001) and has led the program through 2 successful Royal College reviews. He has also trained 47 fellows in Cornea/External Ocular Diseases of the Eye from all over the world, including Canada, United States, Israel, Australia, Singapore, Malaysia, Thailand, the Philippines, and Great Britain. In 2001, Dr Slomovic was awarded the Mentor of the Year Award by the Royal College of Physicians of Canada. Dr Slomovic is the inaugural winner of this award in the province of Ontario. Dr Slomovic has published numerous articles in the area ofCornea/External Diseases of the Eye and Refractive Surgery and has also lectured on these topics locally, nationally and internationally.
In March 2014, Dr Slomovic was nominated by Toronto Life as one of Toronto's best doctors.

Financial disclosure: Dr. Slomovic has/had an affiliation (financial or otherwise) with a commercial organization:
Acqueous
AiZtech
Alcon Canada
Johnson & Johnson
Santen
Sun Pharma
Sessions in which Dr. Allan Slomovic, MSc, MD, FRCSC participates
Halifax Convention Centre - 608/609
10:45 AM - 12:15 PM | 1 hour 30 minutes

Learning Objectives:To review treatment strategies for managing intraocular lens complicationsTo review pe...

Talk | Exposé
Halifax Convention Centre - 608/609
1:30 PM - 3:00 PM | 1 hour 30 minutes

Learning ObjectivesAt the end of this session, participants will be able to:Define the signs and symptoms of...

Talk | Exposé