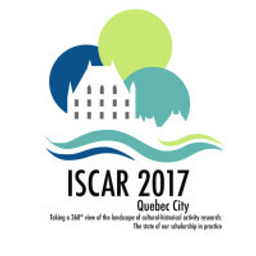 Sessions auxquelles Dr. Seth Chaiklin participe
Convention Center - 2000 B
Dr. Seth Chaiklin, University College UCC (Modérateur.rice)
Dr. Barbara Rogoff, University of California, Santa Cruz (Participant.e)
Mrs. Britt-Mari Barth, Institut Catholique de Paris (Participant.e)
Mr. Viktor Zaretskii, Moscow State University of Psychology and Education (MSUPE) (Participant.e)
Dr. Olga A. Vásquez, University of California, San Diego (Participant.e)
Convention Center - 205 B
Symposium (Symp)
Dr. Sylvie Barma, Université Laval (Modérateur.rice)
Dr. Katerina Plakitsi, University of Ioannina Greece (Participant.e)
Dr. Sylvie Barma, Université Laval (Participant.e)
Dr. André Machado Rodrigues, University of São Paulo (São Paulo, Brazil) (Participant.e)
Dr. Cristiano Mattos, University of São Paulo (Participant.e)
Marie-Caroline Vincent, Université Laval (Participant.e)
Julie Masse-Morneau, Université Laval (Participant.e)
Florence Cadieux-Gagnon, Université Laval (Participant.e)
Samantha Voyer, Université Laval (Participant.e)
Dr. Seth Chaiklin, University College UCC (Participant.e)
Eleni Kolokouri, University of Ioannina (Participant.e)
Efthymios Stamoulis, University of Ioannina (Participant.e)
Liana Stylianou, Environmental Education Centre of Naoussa (Participant.e)
Eftychia Nanni, University of Ioannina (Participant.e)
Nikos Kolios, Laboratory Science Centre of Ioannina (Participant.e)
Mr. Jorge Sanabria-Zepeda, Universidad de Guadalajara (Participant.e)
Dr. Charikleia Theodoraki, School of Education, Department of Early Childhood Education, University of Ioannina (Participant.e)
The goal of this interactive symposium is to collectively share and compare the way we do research in STEM education so it may further develop. Eac...
Paper in a Symposium (Symp)
Dr. Seth Chaiklin, University College UCC (Participant.e)
Cultural-historical theory is primarily a psychological theory about and human action and development within meaningful contexts. As a psychologica...
Sessions auxquelles Dr. Seth Chaiklin assiste