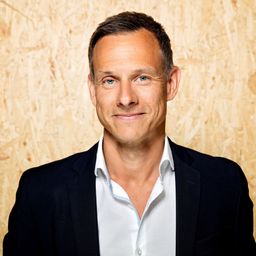 Christian Bason is the chief executive of the Danish Design Centre. His role is to set the strategic direction for the organisation, and to govern the most demanding initiatives and activities. Christian is also CEO of Design Society, a foundation which is the parent company of the Danish Design Center, INDEX: Design to improve life, Global Fashion Agenda and Copenhagen Fashion Week.
From 2007 to 2014, he was Director of MindLab, the Danish government's innovation team. From 1998 to 2006, he was a consultant and business manager with the international advisory group Rambøll Management, heading the organisation and management practice.
Christian is a prolific contributor to blogs and magazines, includingHarvard Business Review,Stanford Social Innovation Review and the Danish weekly business and political magazineMandag Morgen. He is the author of seven books on design, innovation and management, most recentlyLeading Public Design (2017),Form Fremtiden (Shape the future; 2016),Design for Policy (2014) andLeading Public Sector Innovation (2010). Christian is a visiting associate professor at several executive educations, including Oxford Saïd Business School, the European School of Administration, Copenhagen Business School and Aarhus University.
Christian is a member of the board for the Royal Danish Academy of Fine Arts, School of Architecture, Design and Conservation (KADK), a member of The Rockwool Foundation's Research Programme Committee, and also member of the World Economic Forum'sGlobal Future on Agile Governance Council. He is a former Chair of the European Commission's Expert Group on Public Sector Innovation and a former member of the European Design Leadership Board. Currently, he is a member of the SIRI Commission and the Danish government's challenge panel on public innovation and digitization. Christian holds an M.Sc. in Political Science from Aarhus University and a Ph.D. from Copenhagen Business School, CBS.
Christian is in high demand as a speaker and inspires and advises business leaders and governments in Denmark and abroad.
Sessions in which Christian Bason participates