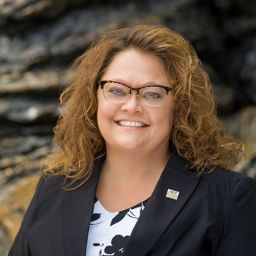 Cammie Newmyer
STEM Educator
2018-2019 Albert Einstein Distinguished Educator Fellow
Cammie Newmyer is a 2018-2019 Albert Einstein Distinguished Educator Fellow current placed at the National Science Foundation (NSF) Directorate for Education and Human Resources (EHR) Division of Undergraduate Education (DUE) Robert Noyce Teacher Scholarship Program (NOYCE).
Cammie has 18 years of teaching experience in highly impacted school districts in the San Luis Valley in Southern Colorado, teaching math and computer science to diverse populations including at-risk high school students. As a direct result of her efforts to individualize math instruction by both remediating and accelerating math learning, Cammie has written four books on strategies for increasing math content understanding - the "Math That Makes Sense" series.
Cammie has developed multiple online courses in both computer science and mathematics. She was awarded the San Luis Valley Teacher of Year award for mentoring students in engineering projects for the International Science and Engineering Fair. As an education member of the Civil Air Patrol, Cammie brought technology and hands-on learning to alternative high school students. She has continued to work outside the K-12 system as an adjunct professor in developmental mathematics at Adams State University and college level mathematics for Colorado Community Colleges Online. She has worked with migrant youth through the Summer Migrant Education Program and first generation college bound students through Upward Bound. Cammie has presented strategies for teachers to assist, recruit and retain highly impacted students in STEM courses at the Space Exploration Educator's Conference at Space Center Houston,TX and the Computer Science & Information Symposium at Google Headquarters in Mountain View, CA.
After earning a B.A. in mathematics with a minor in history and an emphasis in secondary education from ASU, Alamosa, CO, she was invited to present an original work in mathematics on group theory at CSU, Ft. Collins, CO, through the Mathematical Association of America. Later, Cammie earned an M.A. in mathematics from the University of Houston, TX. Cammie has worked with the Colorado State Board of Education setting standards for teacher certification in mathematics for the State of Colorado. She is an AP Calculus and AP Computer Science certified instructor.
https://science.energy.gov/wdts/einstein/fellows-central/current-fellows/cammie-newmyer/

Sessions in which Cammie Newmyer participates
Sessions in which Cammie Newmyer attends