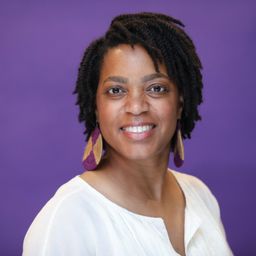 Ellisha T. Newton, M. Ed.
Teacher
Spring Independent School District
Growing up, Ellisha Newton, M. Ed., was nurtured by a family which included many educators. Her love for Science began in 6th Grade with her exciting Science teacher, Mrs. Gloria Williams and fueled more by her amazing 7th grade Science teacher, Ms. Sylvia Butler. The fire to educate others and guide them toward success is attributed to these wonderful people. Her passion is empowering youth and adult learners to reach their personal and professional goals.
She received a Bachelor of Arts degree from Dillard University in Elementary Education with an endorsement in Kindergarten and a Master of Science from Southern University and A & M College in Educational Administration and Supervision. She is working to complete a Doctorate in Education in Educational Administration.
During the summer of 1997, she received certification in S.T.E.M. from CSTEM at the Southern University Laboratory School in Baton Rouge, Louisiana, there she learned Project WET, Project WILD and Project Learning Tree among other curricula and facilitation of project based collaborative small group learning experiences. Mrs. Newton's other certifications include Dyslexia Intervention Teacher, English as a Second Language Teacher, Technology, Gifted and Talented Teacher and Principalship. She is a certified Facilitator for Project Learning Tree in Texas, has attended training at NASA for educators and was a HULINC/Rice University S.T.E.M. trainer for teachers across the city of Houston.
Mrs. Newton has had many roles in Education in her 25 year tenure which include Doctoral Fellow, Adjunct Professor, Principal Internship Supervisor at Texas Southern University, elementary Technology Specialist, elementary Director/Principal, Site Coordinator and Titles 1-5 Director, Curriculum Writer and Districtwide trainer for Technology courses from which teacher participants received Gold Standard professional development credit.
She has taught many subjects in grade levels from Pre - Kindergarten-Adults. She has taught all subjects in elementary and middle school and has specialized in teaching and individualizing instruction in middle school Mathematics, Science, English/Language Arts Reading, and Writing. She serves as a mentor for youth and novice teachers.
She served as a Districtwide Instructional Coordinator for Science where she and Teacher Leaders instilled the love for learning through Science, Writing and Literacy in their Pre-Kindergarten-8th Graders. She serves as a Region 4 Science Leadership Collaborative Member. She mentors Science Educators and impacts change in curriculum and awareness of Science for girls and minorities. Mrs. Newton serves as a Space Exploration Educator Crew (SEEC) Member. She presented her "Year in Space", her knowledge of Space Exploration Education that she shared with educators, parents and students at the Space Exploration Educators Conference (SEEC) at Space Center Houston.
In 2020, Mrs. Newton completed a summer institute with Rice University Tapia Center/Exxon Mobil and a Children's Environmental Education Foundation Summer Institute where she wrote interdisciplinary plans to share with colleagues, students and community members.
She facilitated two sessions at the Spring Independent School District EdCamp Unconference entitled Culturally Responsive Proficiency in Teaching and Big Ideas in Sustainability. She presented Big Ideas of Sustainability at the Houston Area Alliance of Black School Educators Lift Every Voice: Leading & Teaching through Pandemics Mini Conference. She served as the first Bright Spot Speaker for the Teachers' Environmental Leadership Series created by the Children's Environmental Literacy Foundation to explore sustainability through the lens of the environment, equity and economics.
Educators from Connecticut, New York, Texas and Georgia attended Mrs. Newton's Bright Spot Speaker presentation where she modeled K-12 best practices to leverage Environmental Integrity, Social Equity and Economic Vitality (the 3E's) into their virtual, hybrid, or in-person classrooms. Participants walked away from her session with ready-to-use student activities focusing on the foundations of sustainability.
Sessions in which Ellisha T. Newton, M. Ed. attends