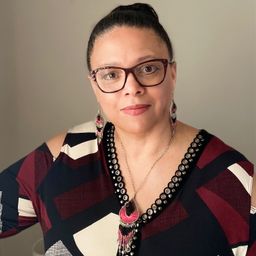 Mrs. Dianea Phillips
Owner
Science Yourself! NO G's About It!
DIANEA CARROLL PHILLIPS - A Multiplatform Professional - More than 30 years of experience
SEEC CREW
2023 JSCH Cherri Brinley Award Recipient
2023 Stardust Festival, Timmins Ontario, STEM+ Legacy Award Recipient
Volunteer Education President - Montreal Aviation Museum
Maine Space Day Presenter (ongoing)
STARFLEET Presenter 2019-present
Assumption School, South Africa, Presenter 2019-present
A graduate of McGill University (B.ED), a PPCC Certified Professional Life Coach (Concordia University) and a certified Adventures in Wisdom Youth Coach (Austin Texas), Entrepreneur; Owner and Operator of Science Yourself! No G's About It! Youth Space Programs. Recenty, she launched STEAMGENUITY! A program aimed at girls who do not have access to STEM or the Arts in Quebec. Dianea has accomplished certifications from the US Space & Rocket Center (Huntsville, Alabama) and is a graduate of the Zero G Corporation Teachers in Space Program having completed five experiments in a weightless environment. She is a recipient of the CTF-FCE - Canadian Teachers' Federation Hilroy Award.
Space Education is important to Dianea. She works locally and globally with STEM teachers and STEAM educators. In 2023, her focus has been primarily on working with Indigenous youth in northern regions of Quebec and Ontario, as well as underserved youth across the globe. She provides both virtual and in-person presentations/workshops. She aims to inspires her students and educators to interconnect, cross curriculum boundaries, spark students' curiosity and imagination but also encourages youth of all ages and genders to become increasingly involved in the sciences. Space Education impacts her life coaching, teaching, STEM and STEAM programs alike. She is an alumni of Space Center University - 2008.
For 13 years, Dianea was the lead consultant for the innovative Preschool Program and teacher collaboration program for 21st century school change. In her role as an educational consultant with Lester B. Pearson School Board's International Studies Program, she led the charge on whole school change at Bangkok Thailand's Thewphaingarm Canadian International School and has continued as a liaison person. Dianea is a DKG ISF Speaker and president of DKG Quebec an international organization.
Dianea created and designed the "Focal Point for Collaboration and Change" and the "Innovative Spaces Project" for elementary schools within her board. Her work impacted whole school 21st century change in five elementary schools.
In her years of teaching with the Inuit of Nunavik, she honed her creative skills and designed hands-on curriculum to increase the communication skills of unilingual Inuktitut speaking children. She credits her experiences as a teacher in the village of Aupaluk's Tarsakallak School, for providing her with a prodigious start to her teaching career.
As an entrepreneur she continues to inspire children through her online and onsite Science Yourself! No G's About It! – space school/robotics STEAM Ed program which inspires over 100 plus students every year. Since 2019 she has been the Canadian Lead Principal Investigator with Magnitude .io ExoLab Plants in Space Program.
Her motto: "Dream it! Design it! Build it! We imagine therefore we become!"
Website: DianeaPhillips.com
https://www.mcgill.ca/channels/channels/news/alumni-highlight-dianea-phillips-certified-aerospace-educator-346494
Contact: ppccphillips@gmail.com
Sessions in which Mrs. Dianea Phillips participates
Sessions in which Mrs. Dianea Phillips attends