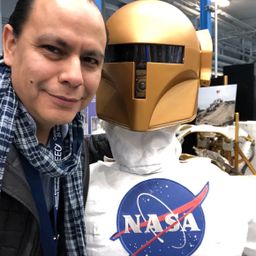 Javier Montiel
International STEAM consultant/ SEEC CREW
The International Aerospace Academy theaerospaceacademy.com
Javier Montiel has worked on numerous international STEAM education projects with public and private schools. Has been responsible for linking students and teachers from around the world.
He has been a presenter at Space Center Houston since 2011 and has delivered official NASA courses and training for teachers and students within the Johnson Space Center facilities. He has also been a guest presenter in NSTA, SXSWedu, the State of Science Index research summit by 3M Latin America, IMSC Bucharest, and the Mexican Space Agency.
He was selected to work as a Teacher Science Advisor in the Bringing the Universe to America's Classrooms initiative in partnership with NASA and the WGBH to review educational materials and Spanish translations representing the State of Texas. Montiel is an ambassador for CoSpaces promoting virtual reality in education. He is part of the Magnitude team of astrobotany researchers and is an active member of the Space Center Houston SEEC CREW, and a SciArt collaborator.
Montiel collaborates with the Aviation Youth Mentoring program where he implemented the strategy for the pilot program NASA SPARX with members from 9 different countries. Montiel is the founder of the initiative The International Aerospace Academy which along with his team, aims to empower communities through research, technology, passion, and meaningful projects. His new endeavor is a new program with over 400 students and their mentors in 8 countries to develop a new education program for Mars space habitats in the Metaverse.
He was recently honored with the "Top 100 Visionaries in Education" award by the Global Forum for Education and Learning (GFEL)
Sessions in which Javier Montiel participates
Sessions in which Javier Montiel attends