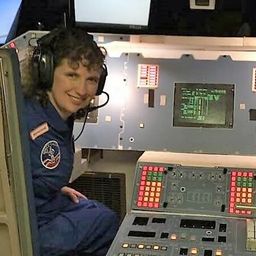 Shelley Potts
Teacher - M.S. Science & Stem, StellarXplorers Coach, CAP Aerospace Ed. Officer
South Belton Middle School, BISD
Shelley Potts is a self-proclaimed NASA Nerd and has even been called the Mary Poppins of Space. (She is always pulling space stuff out of her bags!)
Shelley is currently an Aerospace Education Officer for Civil Air Patrol and a middle school Science and STEM teacher at South Belton Middle School. She has had a team competing in StellarXplorers and a middle school space club.
Shelley attended Honeywell Educators at Space Academy in 2017, Advanced Space Academy in 2018, and has taught at a NASA Explorer School. She has taught at both SEEC and SPACE conferences. She attended Texas Space Grant Consortium's Lift-Off and Air Camp in 2019.
Current projects include Tomatosphere and serving as a Space Station Ambassador.
Sessions in which Shelley Potts participates
Sessions in which Shelley Potts attends