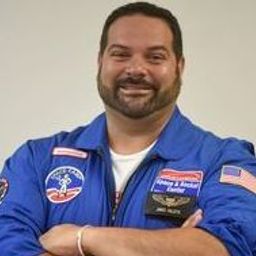 James Falletti
He/Him/His
Middle School Science & STEM Integrator
William D. McDowell Observatory
James Falletti, having graduated from the Education Program at St. Peter's University, holds Masters Degrees in both Educational Leadership, Education, and Counseling with New Jersey certifications in Teaching, Middle School Science, ELA, and Supervision. He also received a BA in English Literature from Stony Brook University in 2007, and a BA in Communications (Journalism) from Dowling College with a minor in Theatre in 2002. Having worked as a Middle School Science Teacher since 2010, he has become a role model and a leader amongst students and colleagues due to his years of dedication to teaching and the use of a hands-on approach. His work and creativity within and away from the classroom enables him to reach all students at all grade and learning levels; as-well-as the members throughout the community.
In June 2017, James attended Honeywell Educators at Space Academy in Huntsville, AL as part of team Destiny, where he received the Right Stuff Award. In June and July of 2018, James returned to United States Space & Rocket Center as an Ambassador to the HESA 2018 program and to complete his training through the Advanced Educators at Space Academy; where he received the Commanders Patch of excellence. He stated, "I love science and technology, and the Honeywell Educators program is the perfect marriage of the two. Learning about STEM and space exploration makes this a must-do experience for every science educator."
Inspired by his work with HESA and various other professional developments, including ProjectEngin, SEEC, and NASTAR, plus his love of science and technology, James has transformed the media center into a fully immersive STEM Lab and Makerspace. Taking on this challenge has earned him recognition in his state, and has lectured on the importance of Makerspaces, as-well-as how to create your Makerspace on the cheap.
James considers himself to be a lifelong learner and hopes to inspire more educators to take a leap of faith into the unknown with curiosity and inspiration to guide them to better the future of every student. In 2021, James has earned both The Cherri Brinley Space Science Educator Award through SEEC and the Patricia F. Kane Environmental Education Award of Excellence through NJ Audubon.
Sessions in which James Falletti participates
Sessions in which James Falletti attends