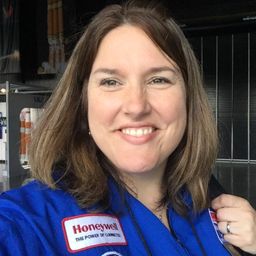 Jenny Mccall
8th Science
Fayette County Public Schools
Jenny McCall has been teaching science for 13 years in a variety of school settings: public, private, and charter. She graduated from the Indiana University of Pennsylvania with a Bachelor of Science in Chemistry and Chemistry Education and completed her Masters of Education in Diverse Learning (dual emphasis - learning behavioral specialist and teaching English Language Learners) from Trinity International University. She currently teaches 8th grade science at the Winburn Middle School in the Fayette County Public Schools located in Lexington, KY. She previously taught for 8 years at the Kenosha School of Technology Enhanced Curriculum, a PLTW distinguished school located in Kenosha, WI before transitioning to KY in the summer of 2020. She is a Project Lead the Way Master Teacher for the Gateway Flight and Space, Science of Technology and Energy and the Environment modules, in addition to certifcations in the Automation& Robotics, Design & Modeling, and Medical Detectives modules.
Attending the Honeywell Educators at Space Academy (2018) was a pivotal and paradigm shifting moment in her career as a middle school science teacher. She attended SEEC for the first time in 2019 and hopes to return every year thereafter.
She is honored to serve as both a Space Foundation Teacher Liasion (Flight 17-20) and JPL Solar System Ambassador (2020) in the pursuit of sharing passionate space exploration within her sphere of influence.
She was accepted as a Wisconsin Space Grant Consortium Embedded Teacher to accompany the Carthage microgravity team on a ZeroG flight in November of 2020. While learning virtually, Winburn Middle School students researched, submitted questions, and designed experiments to fly in microgravity. McCall designed lessons to accompany the videos that were recorded on the ZeroG flight so that other classrooms could learn alongside her students. These lessons are intended to serve as labs for recurring use in her classroom on the subject of how fluids behave in space. The research collected from the Carthage microgravity team is being applied to the design and implementation of the Modal Propellant Gauging system on the Lunar Orbiting Platform.
She is a current participant in the SOFIA Airborne Astronomy Ambassadors program (Cycle 9) with plans to fy aboard the airborne infrared astronomy lab in the winter of 2022.
Sessions in which Jenny Mccall participates
Virtual Classroom 6

2:00 PM CST - 2:45 PM CST | 45 minutes
Session
Sessions in which Jenny Mccall attends