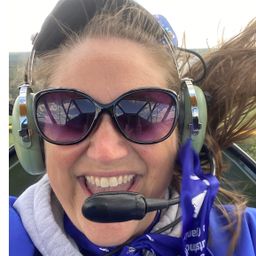 Megan Tucker
National Air Force Association/Rolls Royce Aerospace/STEM Teacher of the Year 2021 | Dean of Curriculum | STEAM Specialist | Gifted Specialist I Instructional Facilitator | NASA SOFIA AAA | National Civil Air Patrol Teacher of the Year 2011
Hillsboro Charter Academy
For 17 years, I have been a teacher and innovation facilitator. I am currently the Dean of Curriculum, STEAM Specialist, Gifted Teacher and Instructional Facilitator (PD) for Hillsboro Charter Academy (HCA), where I have been creating unique curriculum since the 2016 school opening. I have taught 7th grade STEM for 4 years at the Palmdale Aerospace Academy in California, and taught 4th grade STEAM for 7+ years in Florida. I hold multiple STEM Certifications from Project Lead the Way Elementary and Middle School Curriculum. I also founded two after school clubs: AERO (Aerospace, Education, Rocketry and Outreach) Club for low-income middle schoolers as well as Girls in GEAR (Guiding Engineering, Aerospace, and Robotics), an exploratory STEAM club for 4th/5th grade girls.
My love of STEAM, especially aerospace, extends year-round as I have directed and taught at summer science and aviation/aerospace enrichment camps for K-12 students. I have organized teacher workshops and presented at multiple national and state STEAM conferences. I was selected four times, nationwide, for the America's Teachers Program held by the National Training and Simulation Association. I am a published author on Science Netlinks with an article titled "Aviation Fascination." (http://sciencenetlinks.com/media/files/essay-submissions/tucker.pdf) I was also chosen as a Presidential Award Winner for Science Teaching in 2010, the National Civil Air Patrol (CAP) Aerospace Educator of the Year in 2011, a NASA SOFIA Airborne Astronomy Ambassador in 2014, a Space Station Ambassador in 2017, a Space Foundation Teacher Liaison in 2017, the AIAA Foundation Educator Achievement Award in 2019 and most recently named the 2021 Air Force Association/Rolls Royce STEM Teacher of the Year.
I have a B.S. in elementary education from Auburn University as well as a M.S. in Science Education K-8 from Walden University. I am endorsed in Gifted and ELL and certified in elementary and middle grades education. I am a National Board Certified Middle Childhood Generalist. I am a Google Certified Educator, a Seesaw Ambassador for Teachers, a MERGE Ambassador and has Apple Teacher Certification. I love and seek out innovative professional development activities related to STEAM to present PD to my colleagues and am CONSTANTLY learning!
My teaching philosophy is simple: "Your attitude is your altitude!" and ALWAYS strives to PROMOTE A PASSIONATE PERSEVERANCE!
Sessions in which Megan Tucker participates
Sessions in which Megan Tucker attends