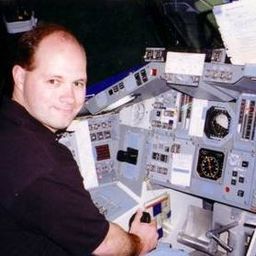 Mr. Brian Ewenson
Executive Director
Spaceport Sheboygan
Brian Ewenson is an aerospace educator, originally from Canada and has worked with Lockheed Martin's Space Day, the Canadian Space Agency and with NASA's Space Shuttle program. He has designed, developped and flown eight experiments on the space shuttle and has subsequently trained astronauts to perform his work in space.
Brian, also created the world's first Air and Space Museum in an international airport, Spaceport Calgary. He was the 2010 Cheri Brinley award winner and has a background in Astrophysics, Elementary Education and American History. He is a professional speaker and educator on the space program and has presented to more than 250,000 people across Canada, United States and beyond.
He has directed a number of Challenger Learning Centers, Air and Space Museums and presently is the Executive Director of Spaceport Sheboygan, a space museum and rocket launch range located in Sheboygan, Wisconsin.
This will be my 28th SEEC conference. I only missed the first one, as I did not know about the conference.
Sessions in which Mr. Brian Ewenson participates
Sessions in which Mr. Brian Ewenson attends