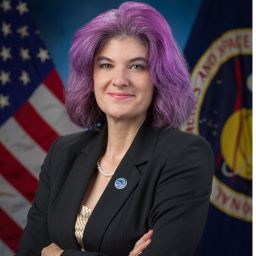 Ms. Alicia Baturoni Cortez
she/hers/ella
Office of STEM Engagement Embed to Human Spaceflight Mission Directorates
National Aeronautics and Space Administration
Alicia Baturoni Cortez is a career STEM educator with 27 years experience creating engaging learning opportunities for students of all ages. A regular SEEC attendee since 1997, all her professional experiences from Michigan public school teacher, to non-profit professional development provider, to NASA Education Programs Specialist have been dedicated to lighting a spark in students and educators. She uses the excitement of human spaceflight to inspire learners to be curious and pursue their passions. Alicia's role in the Office of STEM Engagement at NASA Headquarters is to connect students and educators to the next era of human exploration as NASA works to establish a sustainable presence on the Moon to prepare for missions to Mars. She lives in Houston, TX with her husband and two sons.
Sessions in which Ms. Alicia Baturoni Cortez participates
Space Center Houston (Hosting of all events take place on-line-virtually) - Virtual Classroom 8
Session
Ms. Alicia Baturoni Cortez, National Aeronautics and Space Administration (Presenter)
Nujoud Merancy, NASA (Presenter)
Patricia Moore, NASA's Exploration Systems Development Mission Directorate (Presenter)
NASA's first Artemis mission will take place this year! Are you ready for Artemis I? Meet an engineer from the Artemis Mission Management team and ...
Sessions in which Ms. Alicia Baturoni Cortez attends