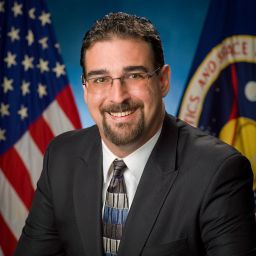 Alex Gladney-Lemon
Education Coordinator
NASA Office of STEM Engagement
Alex Gladney-Lemon currently works at NASA Johnson Space Center's Office of STEM Engagement through NSPACE, a cooperative agreement with Oklahoma State University. Currently he is the co-lead cordinator for NASA Community College Aerospace Scholars (NCAS). NCAS builds a diverse future STEM workforce by engaging two-year degree seeking students in authentic learning experiences. NCAS is a blended-learning experience comprised of a five week online course and a NASA experience. Students get a closer look at NASA's unique missions, diverse workforce, and world-class facilities and learn how to develop their talents, interests, and passion to become future STEM professionals.
Prior to working at NASA, Alex was a high school math teacher in the Pasadena Independent School District just outside of Houston, Texas. In the almost 10 years there he engaged learners of all levels, in unique and meaningful learning experiences. He grew the AP Calculs program from a single class of 20 students to four classes with almost 100 students, almsot 20% of the senior class.
Outside of work Alex enjoys spending time his wife and daughter.
Sessions in which Alex Gladney-Lemon attends
Tours

9:15 AM CST - 10:45 AM CST | 1 hour 30 minutes
Tour