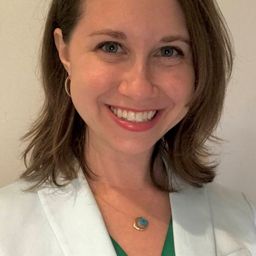 Lauren A. Dalvin, MD
Associate Professor
Ocular Oncology Service
Department of Ophthalmology, Joint Appointment in Medical Oncology
Mayo Clinic, Rochester, MN
Dr. Lauren A. Dalvin is a full-time Ocular Oncologist and Associate Professor of Ophthalmology with a joint appointment in Medical Oncology at Mayo Clinic, Rochester, MN. Dr. Dalvin was a former Mayo Foundation Scholar and Heed Fellow, with over 100 peer-reviewed publications. She was awarded the Leonard and Mary Lou Hoeft Career Development Award to support her translational science laboratory, which focuses on transcriptomic and epigenomic approaches for novel uveal melanoma drug discovery. Dr. Dalvin currently serves on the editorial board for the Canadian Journal of Ophthalmology and the American Academy of Ophthalmology's EyeNet magazine, and she serves as an examiner for the American Board of Ophthalmology. She has a robust clinical practice dedicated to the diagnosis and treatment of intraocular and ocular surface tumors, with particular interest in uveal and conjunctival melanoma, vitreoretinal lymphoma, and retinoblastoma. Dr. Dalvin is passionate about multidisciplinary, team-based eye cancer care and advancing the field through quality clinical and translational research.
Financial disclosure: Dr Dalvin has/had an affiliation (financial or otherwise) with a commercial organization:
Leonard and Mary Lou Hoeft Career Development Award
Sessions in which Lauren Dalvin participates