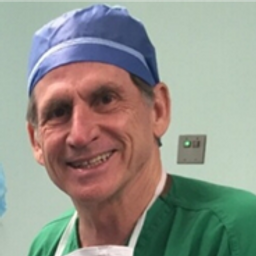 A caring physician, Dr. Wright has been devoted to the welfare of children and the health of their eyes for over 30 years. He is an internationally respected pediatric eye surgeon with specialty in adult strabismus. In 2001, Dr. Wright founded the Wright Foundation for Pediatric Ophthalmology, a non-profit a 501c3, whose mission is to reduce blindness and suffering from eye disorders in children through research, education, and clinical care.
Dr. Wright has operated on children from every walk of life, from royalty to the underprivileged. He has also participated in numerous international medical missions worldwide. Recently, Dr. Wright was awarded a service medal of honor from the office of the President of Panama for over 20 years of service to Panamanian children. As fate would have it, the youngest of Dr. Wright's five children developed crossed eyes in infancy. Rather than refer out, Dr. Wright performed "early surgery" on his own son with great results – his son later qualified as an expert marksman in the United States Marines.
He has authored more than 80 peer reviewed scientific research papers and bestselling textbooks including Color Atlas of Strabismus Surgery by Springer Publishing, and Pediatric Ophthalmology and Strabismus by Oxford Press, and the AAP handbook Pediatric Ophthalmology for Primary Care. His landmark publication in Pediatrics 2003 on preventing severe ROP with physiologic low oxygen has changed the way we treat premature infants and saved literally thousands of babies from blindness worldwide. He is a national and international speaker giving over 100 invited lectures worldwide.
Dr. Wright is currently Medical Director of the Wright Foundation and Adjunct Professor of Ophthalmology at Queens University, Kingston, Canada.
Sessions auxquelles Kenneth Wright participe
Halifax Convention Centre - C4
STC | CTC
Yi Ning Strube (Modérateur.rice)
Ian Clark (Instructeur.rice)
Annick Fournier MD, FRCSC (Instructeur.rice)
Dr. Kamiar Mireskandari (Instructeur.rice)
Matthew Quinn, MD (Instructeur.rice)
Michael O'Connor, MD, MSc, FRCSC MD, MSc, FRCSC (Instructeur.rice)
Stephanie Dotchin MD (Instructeur.rice)
Kenneth Wright (Instructeur.rice)
Description : Ce laboratoire de simulation pratique transférera les compétences requises pour se servir des plus réce...