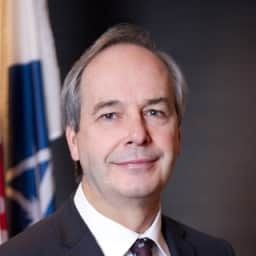 Luc Brûlé
Vice-President, Science and Technology
CSA
Oversight for CSA program sectors, including in Space Utilization, Space Exploration, and Space Science and Technology.
Mr. Brûlé has been Vice-President since April 1, 2014. He has also been the acting President of the CSA. AS VP he is President's senior advisor, the Vice-President is the chief of day-to-day operations at the CSA, monitoring the use of resources, ensuring operations run smoothly, and promoting the Agency's science and technology objectives.
Previously, Mr. Brûlé held a number of director positions, including being Director General of Space Utilization for the CSA. In that position, he was responsible for the overall planning of the Space Utilization Branch, which is tasked with end-to-end implementation of Earth observation, satellite communications and elements of the space environment of the Space Program.
As manager of the program for the development and successful launch of RADARSAT-2, Luc was in charge of the Technology and Management Applications Directorate for two years, until he became the Director of Space Exploration Development.
Mr. Brûlé holds a bachelor's degree in physical engineering and a master's in nuclear engineering He joined the CSA in 1991 following a career at the Department of National Defence.
Sessions in which Luc Brûlé participates
10:00 AM EDT - 10:30 AM EDT | 30 minutes
Keynote