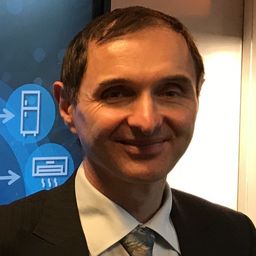 Svetoslav Mihaylov
Policy Officer, Internet of Things Unit, DG CONNECT
European Commission
Svetoslav Mihaylov is a Policy Officer in Unit E4 – Internet of Things at the European Commission's Directorate-General for Communications Networks, Content and Technology. His areas of responsibility include interoperability and standards for Internet of Things and application-focused edge computing. Besides his cross-sector responsibilities, he is focusing on the digitalisation of the energy domain. In this position at the European Commission he has lead the creation of the SAREF ontology for smart appliances and its extension in other IoT areas as well as a number of standards and other reference documentation in the area of urban platforms and Smart City interoperability.
In the period 1999-2013, Svetoslav Mihaylov held different positions at the largest telecom operator in Belgium Proximus and was responsible for introducing new technologies, creating network solutions, defining the strategy and roadmap, etc. Prior to this he contributed to the development of the Information Society topic at the European Commission's DG XIII Telecommunications and worked under contracts for several other organisations/companies.
He has an MSc in Telecommunications from Technical University of Sofia (plus Technical University of Denmark), postgraduate diploma in Wireless Telecommunications from Oxford University and postgraduate credit in Political and Economic Systems from Georgetown University.
Sessions in which Svetoslav Mihaylov participates
Musikhuset Aarhus - Bag Scenen
Panel
Lykke Friis, Ministry for Climate and Energy, Denmark (Potential)
Aitor Alzaga, IK4-TEKNIKER (Participant)
Martin Euchner, ITU-T Study Group 17 (Potential)
Abdulrahman Al-Ali, American University of Sharjah (Potential)
Olivier Corradi, Tomorrow (Potential)
Moacyr Martucci Junior, University of Sao Paulo  (Potential)
Antonio Skarmeta, Universidad de Murcia (Potential)
Marian Pletosu, ITU - International Telecommunication Union (Moderator)
Antonio Colino, IoT Forum (Potential)
Svetoslav Mihaylov, European Commission (Participant)
This session will explore the pivotal role played by AI and IoT-based technologies in enhancing the importance of ...