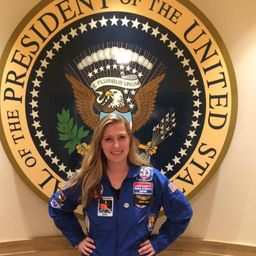 Jenn Donais
K-8 STEM Coach | PAEMST 2016 | AFA/Rolls Royce 3rd Place National Teacher of the Year | Google Coach | PLTW Launch Lead Teacher | ST Math Champion
Amesbury public schools
Jennifer ("Jenn") Donais has been an educator for 12 years and is currently a K-8 STEM Coach at Amesbury Public Schools in Amesbury, Massachusetts. She earned her Bachelor of Science in Inclusive Elementary Education and Special Education from Syracuse University and her Master's in Curriculum and Teaching at Fitchburg University.

Jenn has been awarded the Presidential Award for Excellence in Mathematics and Science Teaching (PAEMST) in 2016, the highest recognition that a kindergarten through 12th-grade mathematics or science teacher may receive for outstanding teaching in the United States. She has also been awarded the Air Force Association 3rd place National Teacher of the Year in 2021. She served as the Digital Literacy Computer Science Ambassador for Massachusetts where she gave presentations across the state about how to bring computational thinking into math and science classrooms. She has been featured on the Massachusetts Department of Elementary and Secondary Education's Standards Based Learning in Massachusetts Classrooms' video.

Jenn is the PAEMST Alumni Representative where she increases engagement among alumni between the state and national level. She formally served on the Massachusetts Department of Elementary and Secondary Education's Teacher Advisory Cabinet.

Jenn is an international STEM trainer and has gone to the United Arab Emirates to facilitate professional development to teachers throughout the country and to train them in STrEaM Education (science, technology, reading, engineering, art, and mathematics). She is a Google certified coach, Flipgrid grid-guide, and Civil Air Patrol Member. Jenn believes all students need to be given the skills to solve the most complex problems in the world.
Sessions in which Jenn Donais attends