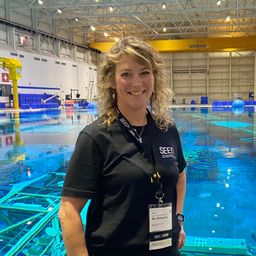 Melissa Pore
STEM Club Mentor and Global Studies Faculty
Bishop O'Connell High School
Melissa Pore, M.Ed. KM4CZN is a STEM educator at Bishop O'Connell High School in Arlington, Virginia. She has taught for over 25 years in Texas, Maryland, and Virginia with a focus on technology and wireless communications. Melissa has led 3 student satellite missions to orbit and is a licensed Amateur Radio operator and an Ambassador for the Education Committee for Amateur Radio on the International Space Station (ARISS). She serves on the US ARISS Ops team at Goddard Space Flight Center, known as the original Space Shuttle Retransmission Station, performing antennae operations for ARISS education downlinks between schools and astronauts LIVE on the ISS. She was recently recognized by the Air & Space Forces Association (AFA) as Virginia State Teacher of the Year for 2022. She continues to expand her impact on education through work with commercial space partners and with government agencies focused on expanding access to all students, teacher retention/support, and student driven goals around equity. Her involvement outside the classroom includes such groups as SEEC Educator Crew, Space Station Explorers Ambassadors, Growing Beyond Earth Ambassadors, and as an active member of the User Advisory Committee (UAC) Education Subcommittee for the International Space Station National Laboratory (ISSNL) since 2020.
Sessions in which Melissa Pore participates
Space Center Houston (Hosting of all events take place on-line-virtually) - Virtual Classroom 5
Session
Craig Shannon, NASA - Johnson Space Center (Presenter)
Angela Moran, USNA/ Engineers On Deck (Presenter)
Lauren Maples, NASA - Johnson Space Center (Presenter)
Dave Brown, Space Center Houston Education[Retired) (Presenter)
Melissa Pore, Bishop O'Connell High School (Presenter)
In this workshop, participants will investigate neutral buoyancy and the operations of the Neutral Buoyancy Laboratory at NASA's Johnson Space C...
Sessions in which Melissa Pore attends