Saturday Keynote: Science Fiction, Science Future, and Science Now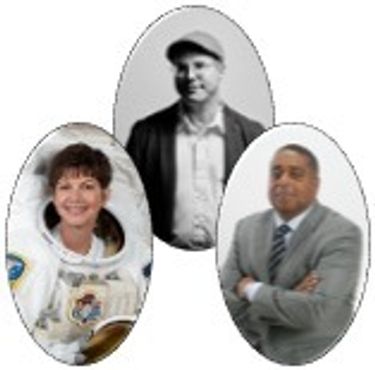 3:15 PM, Saturday 6 Feb 2021 CST (1 hour)
Persevering with innovation is a consistent theme in science fiction and in real life. Join us as author Andy Weir, astronaut Cady Colman, and IntelChief Data Scientist Melvin Greer, discuss ScienceFiction, ScienceFuture, and ScienceNow through the lens of space exploration and Andy's new book Project Hail Mary.

Andy Weir built a two-decade career as a software engineer until the success of his first published novel, The Martian, allowed him to live out his dream of writing full-time. He is a lifelong space nerd and a devoted hobbyist of such subjects as relativistic physics, orbital mechanics, and the history of manned spaceflight. He also mixes a mean cocktail. He lives in California. Photo credit: Aubrie Pick ©
Cady Colman is a former NASA astronaut – the veteran of two space shuttle missions and six months living aboard the International Space Station as the lead robotics and lead science officer. During her 24-year career at NASA, she has gained deep insight into how to establish trust, build teams, and collaboratively solve problems when failure is not an option. She currently serves as Global Explorer in Residence at Arizona State University and is a passionate advocate for diversity and inclusion in STEM and STEAM. Cady recently co-anchored ABC's Launch America coverage of the historic SpaceX launch. An amateur flute player, she is best known for her "Space Duet" from orbit with Ian Anderson of Jethro Tull. Find Cady on Instagram and Twitter at: @Astro_Cady and on Facebook at @astrocady
Melvin Greer is Chief Data Scientist, Americas, Intel Corporation. He is responsible for building Intel's data science platform through graph analytics, machine learning and cognitive computing to accelerate transformation of data into a strategic asset for Public Sector and commercial enterprises. His systems and software engineering experience has resulted in patented inventions in Cloud Computing, Synthetic Biology and IoT Bio-sensors for edge analytics. He functions as a principal investigator in advanced research studies, including Nanotechnology, Additive Manufacturing and Gamification. He significantly advances the body of knowledge in basic research and critical, highly advanced engineering and scientific disciplines. Mr. Greer is a member of the American Association for the Advancement of Science (AAAS) and U.S. National Academy of Science, Engineering and Medicine, GUIRR. Melvin has been appointed to Senior Advisor and Fellow at the FBI IT and Data Division. Melvin is charged with acceleration of the FBI mission by supporting appropriate data collection, data analytics, discovery and visualization via advanced data science and AI techniques.

Who's Attending
214 other(s)
Go to full session attendee listing