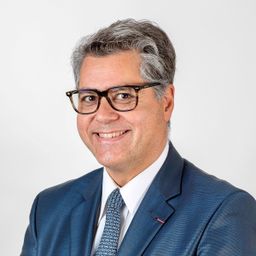 Laurent Kodjikian, MD PhD FEBO, is the current President of the French Society of Ophthalmology(SFO) and the current Vice-President of the French Academy of Ophthalmology.
He is Professor of Ophthalmology (First Class) and Chair of the University of Lyon, France, and Associate Chair of the Department of Ophthalmology, Croix-Rousse Teaching Hospital, Lyon, France.
Since 2005, Professor Kodjikian has been on the Boards of the French Agency for Drug Security (ANSM, ex-AFSSAPS) and the National French Health Agency (HAS). Since 2009, he has also been an Expert on Clinical Research Projects in University Hospitals for the French Health Minister.
Since 2013, he is administrator of the national French Ophthalmological Society (SFO), Associate General Secretary since 2016 and current president since 2018.
He is a member of numerous scientific societies (ARVO, AAO, Euretina, Club Jules Gonin, SFO).
Professor Kodjikian's research focus is on medical and surgical retina (especially AMD, DR, RVO) and in infections & inflammations (uveitis). He was the principal coordinator of the national GEFAL study (head-to-head study comparing avastin to lucentis in AMD with a budget of 5 millions US dollars). He has been involved in more than 60 clinical trials, examining especially novel therapies for AMD and diabetic retinopathy.
He has contributed to more than 240 peer-reviewed publicationsin the ophthalmic literature. Professor Kodjikian is author or co-author of 8 books.
He was or is reviewer for 36 journals(including famous journals like The Lancet). He currently belongs to the Editorial Board of the Journal Français d'Ophtalmologie.. He belonged to the Editorial Board of the International Journal of Ophthalmology and Clinical Research and of the Journal of Ophthalmology.
Financial disclosure: Professor Kodjikian has/had an affiliation (financial or otherwise) with a commercial organization:
Allergan
Alimera
Bayer
Horus
Novartis
Roche
Thea
Sessions in which Prof. Laurent Kodjikian participates
Québec City Convention Centre - Room 308 B | Salle 308 B
1:30 PM - 3:40 PM | 2 hours 10 minutes

 A joint symposium of the Société Française d'Ophtalmologie and the Canadian Ophthalmological SocietyThi...