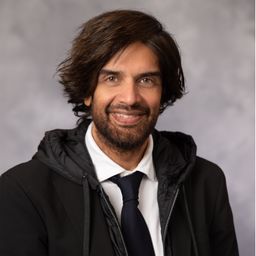 Ike K. Ahmed is a fellowship-trained glaucoma, cataract, and anterior segment surgeon with a research and practice focus on the management of glaucoma, complex cataract and intraocular lens complications. He practices and is board certified in ophthalmology in Canada and the USA and is an active member of numerous national and international societies. Dr. Ahmed is recognized as being one of the most experienced complex eye surgeons in the world and has become renowned for his skills and groundbreaking work in the surgical treatment of highly complex eye diseases including glaucoma and surgical complications. He is known to be a disruptive thinker and values the power of the human spirit, passion, collaboration, and energy to challenge the status quo. He has done pioneering work in innovative glaucoma therapeutics, developing and coining the term "Micro-Invasive Glaucoma Surgery (MIGS)" and "Interventional Glaucoma" as a new genre of surgical approaches and devices. Dr. Ahmed has become one of the most recognized eye surgeons in the world and was recently recognized as the "2nd most influential ophthalmologist" in the world by the news magazine The Ophthalmologist.
Patients are referred to him locally, nationally, and from around the world. He has been invited to perform surgery in 4 continents across the globe. Dr. Ahmed was selected as one of Canada's "Top 40 Under 40" – a prestigious national award recognizing significant achievements at a young age and he was selected to receive the prestigious Binkhorst medal at ASCRS, which is awarded to the world's most prominent ophthalmologists whose careers have made significant contributions to the science and practice of ophthalmology. The American Glaucoma Society honoured him with the AGS Surgery Day Lecture, and the UKISCRS bestowed him with the Pearce Medal Lecture in 2015. In 2017 he awarded the "Innovator of the Year" by the Eye Physicians and Surgeons of Ontario.
Dr. Ahmed has a large tertiary glaucoma/complex cataract practice at Prism Eye Institute (www.prismeyeinstitute.com) in the Greater Toronto Area, and primarily performs surgery at Trillium Health Partners, Mississauga, Ontario, the Kensington Eye Institute, University of Toronto, Toronto, Ontario, and TLC Oakville.
In 2021, Dr. Ahmed took on a new initiative as Director of the new Alan S. Crandall Center for Glaucoma Innovation (www.crandallcenter.com) at the John A. Moran Eye Center and became a tenured Professor at the University of Utah, Department of Ophthalmology and Visual Sciences. This is a part-time position that compliments his work in Toronto. Embedded within the incredible resources, clinicians, and scientists at the Moran, the center is poised to tackle the global burden of eye disease by developing better diagnostic tools, designing safer and more effective treatments, and teaching and training. He also sees patients and operates at the John A. Moran Eye Center in Salt Lake City, Utah.
Dr. Ahmed has a keen interest in the development of advanced microsurgical devices and techniques in glaucoma and complicated cataract extraction and is actively involved in research and medical education at a national and international level. He has received research grants to study glaucoma diagnostics and therapies, anterior segment and retinal/optic nerve imaging, cataract surgical techniques and devices, and intraocular lens designs. Dr. Ahmed has designed innovative diamond scalpels for surgery, microsurgical instrumentation, and devices, implants, and techniques for the management of the dislocated cataract, iris reconstruction, and glaucoma implant devices. He also performed the first laser cataract surgery in Canada.
As a result of his innovative expertise, Dr. Ahmed has been asked to consult for many companies and manufacturers, especially pertaining to the development of new devices and technologies. He sits on numerous scientific advisory boards and is a consultant to over 50 medical companies. He has served as medical monitor and as a principle investigator for some of the largest clinical trials in Ophthalmology.
He founded and directs The Toronto Cataract Course, The IOL Course for Canadian Residents, and the COS Surgical Teaching Series, as well as a number of AAO and ASCRS Courses. He sits on the editorial boards of pre-eminent journals in the field, including Ophthalmology, Ophthalmology-Glaucoma, Journal of Glaucoma, and Canadian Journal of Ophthalmology. He also holds editorial positions on EyeNet, Ocular Surgery News, Cataract and Refractive Surgery Today. In 2018 he was appointed as the Chief Medical Editor of Glaucoma Today.
Dr. Ahmed has been Principal Investigator for numerous research studies and has served as medical monitor for many pivotal clinical trials. He has published over 200 peer-reviewed papers and has published books on Glaucoma Surgery, Intraocular Lens Surgery, and Advanced Anterior Segment Surgery. He has won five film festival awards, ten best papers of session, and a poster award at ASCRS, as well as an ESCRS first place video award and AAO "Best of Show" award. He has given over 1000 scientific presentations thus far in his career, including 40 visiting professor's lectures around the world.
He is the Director of the Glaucoma and Advanced Anterior Segment Surgery (GAASS) fellowship at the University of Toronto, and Director of Research at the Kensington Eye Institute, University of Toronto. He has trained glaucoma specialists and cataract/ anterior segment surgeons who are now practicing around the world.
Financial disclosure: Dr. Ahmed has/had an affiliation (financial or otherwise) with a commercial organization:
Aequus: C

Ace Vision: C

Aerie Pharmaceuticals: C, R

Akorn: C

Alcon: C,S,R

Allergan: C,S,R

Aquea Health, Inc: C

ArcScan: C

Avellino Lab USA, Inc: C

Avisi: C

Bausch Health: C

Beaver Visitec: C

Belkin Vision: C

Beyeonics: C

Bionode: C, R

Carl Zeiss Meditec: C,S

Centricity Vision, Inc: C

CorNeat Vision: C

Custom Surgical: C

Elios Vision: C

ElutiMed: C

Equinox: C

eyeFlow, Inc: C

EyeMed: C

EyeQ Technologies: C

Exhaura Limited: C

Genentech: C

Glaukos: C, R

Gore: C

Heine: C, S

Heru: C

Iantrek: C

InjectSense: C

Iridex: C

iCare: R

iStar: C

Ivantis: C, R

Johnson & Johnson Vision: C, S, R

Labtician Thea: C

LayerBio: C

Leica Microsystems: C

Life Long Vision: C

Long Bridge Medical, Inc: C

MicroOptx: C

MST Surgical: C, S

Myra Vision/Shifamed LLC: C

New World Medical: C, R

NovaEye: C

Ocular Instruments: C

Ocular Therapeutix: C

Oculo: C

Oculus Surgical: C

Omega Ophthalmics: C

PolyActiva: C

PulseMedica: C

Radiance Therapeutics, Inc: C

Radius XR: C

Rheon Medical SA: C

Ripple Therapeutics: C

Samsara Vision: C

Sanoculis: C

Santen: C, R

Singapore Biodesign Programme Office

Sight Sciences: C

Smartlens, Inc: C

Stroma: C

Thea Pharma: C

TFS Health Science: C

ViaLase: C

Visus Therapeutics: C

Vizzario: C

VSY Biotechnology: C

Zilia, Inc: C
Sessions in which Iqbal (Ike) Ahmed, MD participates
Québec City Convention Centre - Room 306 AB | Salle 306 AB
10:45 AM - 12:15 PM | 1 hour 30 minutes

 Learning Objectives: At the end of this session, participants will be able to: Enhanc...

Talk | Exposé