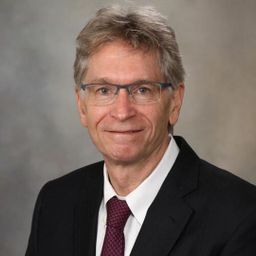 Dr. Brodsky is a Professor of Ophthalmology and Neurology, and holds an endowed chair as the Knights Templar Research Professor of Ophthalmology at the Mayo Clinic in Rochester Minnesota. Following residency, he had fellowship training in both Neuro-Ophthalmology (William F. Hoyt at UCSF) and Pediatric Ophthalmology (Edward G. Buckley, Duke University). Early in Dr. Brodsky's career, he was the principal investigator for the Optic Neuritis Treatment Trial and the Longitudinal Optic Neuritis Study which were a multicenter studies funded by the National Eye Institute.
He has published over 270 articles, with clinical clinical interests that center around the diagnosis and management of neuro-ophthalmologic disorders in children. He has published a definitive 800 page textbook on this condition (Brodsky MC: Pediatric Neuro-Ophthalmology. 3rd edition, Springer, New York 2016), edited another textbook on Pediatric Ophthalmology, Neuro-Ophthalmology, and Genetics (Springer, 2010).
For the past 25 years, Dr. Brodsky's research work has also been dedicated to defining the neuroanatomical substrates and physiologic mechanisms of different forms of strabismus in children, identifying the subcortical circuitry that gives rise to common pediatric forms of strabismus and nystagmus. These studies have been summarized in a recent a compendium of essays entitled Evolutionary Mechanisms of Infantile Strabismus and Nystagmus, Springer, New York, 2021.
Financial disclosure: Dr. Brodsky has/had no affiliation (financial or otherwise) with a commercial organization.
Sessions in which Michael Brodsky, MD participates
Québec City Convention Centre - Room 306 AB | Salle 306 AB
8:00 AM - 10:00 AM | 2 hours

 Learning Objectives:At the end of this session, participants will be able to:Elucidate the caus...
Québec City Convention Centre - Room 308 A | Salle 308 A
10:45 AM - 12:15 PM | 1 hour 30 minutes

 Learning ObjectivesAt the end of this session, participants will be able to:

Talk | Exposé
Québec City Convention Centre - Room 308 A | Salle 308 A
3:45 PM - 5:15 PM | 1 hour 30 minutes

 Learning ObjectivesAt the end of this se...

Talk | Exposé