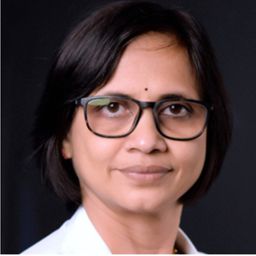 Dr. Padmaja Kumari Rani
Public Health and Global Ophthalmology
Dr. Padmaja Kumari Rani is a vitreoretinal surgeon and an expert in the management of diabetic retinopathy with 20 years of professional experience. Dr Rani is currently a faculty of Srimati Kanuri Shanthamma Centre for Vitreoretinal diseases, Anant Bajaj Retina Institute, L V Prasad Eye Institute, Hyderabad (India) and Associate Director of Teleophthalmology. She has over 160 peer reviewed publications. She was Key Investigator of Sankara Nethralaya Diabetic Retinopathy Epidemiology and Molecular Genetics Study (SNDREAMS) group. She managed a District wide Rural Diabetic Retinopathy Project (Nonmydriatic fundus camera based DR screening model) in LV Prasad Eye institute( LVPEI) (2012-2015). She is Key investigator of SMART India (Multicentric DR study)at LVPEI in collaboration with Professor Sobha Sivaprasad, Moorfields Eye Hospital, London. She is passionate in capacity building of Diabetic retinopathy, Retinopathy of Prematurity and telemedicine programs. She is the author of the Sankara Nethralaya Atlas of Vitreoretinal Diseases.
Financial disclosure: Dr. Kumari Rani has/had no affiliation (financial or otherwise) with a commercial organization.
Sessions in which Dr. Padmaja Kumari Rani participates
Québec City Convention Centre - Room 306 AB | Salle 306 AB
8:00 AM - 10:00 AM | 2 hours

 Learning Objectives:At the end of this session, participants will be able to:Elucidate the caus...
Québec City Convention Centre - Room 308 B | Salle 308 B
3:45 PM - 5:15 PM | 1 hour 30 minutes

 Learning ObjectivesAt the end of this session participants will be able to:Describe the impact ...

Talk | Exposé
Sessions in which Dr. Padmaja Kumari Rani attends
Québec City Convention Centre - Room 307 AB | Salle 307 AB
10:45 AM - 12:15 PM | 1 hour 30 minutes

 Learning Objectives: At the end of this session, participants will be able to: