Panel: Innovation Artemis!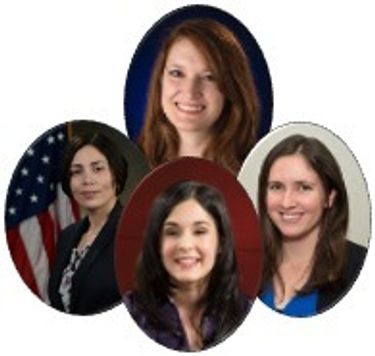 12:45 PM, Friday 5 Feb 2021 CST (1 hour)
Virtual session
This session is in the past.
The virtual space is closed.
Do you want to find out about the latest NASA innovation for human exploration? Then this is the panel for you. Learn about the upcoming Artemis Mission and all of the innovation being developed to explore the Moon and keep our astronauts safe.



Dr. Kathleen Boggs serves as the Capability Integration Strategy Lead in Human Exploration and Operations Mission Directorate at NASA. She leads strategic planning for development and demonstration of capabilities critical for long duration deep space missions to destinations such as the Moon and Mars. Prior to her work at NASA, Dr. Boggs served in several roles analyzing operations and technology issues for the Marine Corps.

Erika Alvarez is the Acting Systems Engineering and Integration Director for the Advanced Exploration Systems Division at NASA Headquarters. She began her career at NASA's Marshall Space Flight Center in Huntsville, Alabama, in 2004 as a turbopump engineer for the Space Shuttle Main Engine. On a daily basis, Alvarez is chiefly responsible for ensuring programs such as the Human Landing System, Lunar Gateway, and Lunar Terrain Vehicle are openly and effectively communicating and working with the technical authorities and crew to successfully integrate near-term lunar surface and cis-lunar operational missions.

Kelsey Young is a Research Space Scientist at NASA Goddard Space Flight Center. Young's research focuses on the integration of science into human exploration. Specifically, Young investigates the science questions, tools and instruments, and operational concepts for the crewed exploration of other planetary surfaces. She conducts and leads fieldwork in impact cratered and volcanic terrains, investigates the incorporation of handheld and field portable technologies into human exploration, and serves as a classroom and field instructor for NASA's astronauts. Young has served in leadership roles in several of NASA's analog missions, which simulate human exploration in high-fidelity analog environments (from volcanic fields in Arizona to underwater habitats off the coast of Florida), and is currently preparing for the exploration of the lunar surface with the Artemis program.

Patricia Moore experienced her first taste of STEM education and aerospace outreach while working at Space Center Houston. She began her career with NASA in 2009 when she joined Johnson Space Center's Digital Learning Network. Patricia currently serves as a Communication Strategist and the Museum Liaison for NASA'sArtemis Communication Team. She travels the country integrating human exploration resources at museums, science centers, planetariums, libraries and other informal education groups. Her continuous efforts to provide resources, individualized support, and authentic NASA experiences enables valued community partners to inspire the next generation of explorers.
Who's Attending
83 other(s)
Go to full session attendee listing...