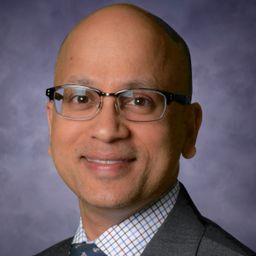 Sunir J. Garg, MD, FACS, FASRS
Sunir J. Garg, MD, is Professor of Ophthalmology at the Retina Service of Wills Eye Hospital, Thomas Jefferson University, and is a partner with Mid Atlantic Retina. He is co-director of the Retina Research Unit at Wills Eye Hospital. He has published more than 400 peer reviewed papers, book chapters, and commentaries, and is editor of ophthalmology for the Merck Manual, Deputy Editor in Chief of the American Academy of Ophthalmology ONE Network, outgoing Editor-in-Chief of Retina Times, and a member of the Editorial Boards of the American Journal of Ophthalmology and the Canadian Journal of Ophthalmology. He is also an official clinical spokesperson for the American Academy of Ophthalmology.
Dr. Garg has been featured in the Wall Street Journal, USA Today, the Philadelphia Inquirer, Popular Science, The Atlantic, Women's Health, and has been on Good Morning America, the Today Show, and the Canadian Broadcasting Corporation.


Financial disclosure: Dr. Garg has/had an affiliation (financial or otherwise) with a commercial organization:
Apellis
Bausch & Lomb
Boehringer lngelheim
Coherus
Genentech
Kanaph
Kodiak Biosciences
Merck Manual
NGM Bio
Regeneron



Sessions in which Sunir J. Garg, MD, FACS, FASRS participates