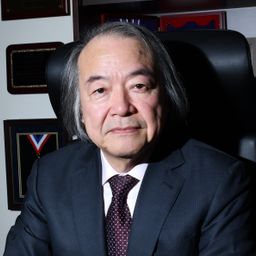 Shigeru Kinoshita, MD, PhD
Ocular Regenerative Medicine
Dr. Shigeru Kinoshita, a clinician scientist, graduated from Osaka University Medical School in 1974, and has served as the Professor and Chair of Ophthalmology at Kyoto Prefectural University of Medicine since 1992. Because of his stepping down from the Chair of Ophthalmology in March 2015, He was elected the Professor of Frontier Medical Science and Technology for Ophthalmology at Kyoto Prefectural University of Medicine in April 2015. And, he has been continuously working as a distinguished clinician scientist.
In the early 1980s at Harvard Medical School, his groundbreaking work has shed new light on the importance of corneal epithelial stem cell. Over the past 40 years, his primary interest has been focused on the translational research of new therapeutic modalities for severe corneal diseases. Following this path, his group has established amniotic membrane transplantation, cultivated oral mucosal epithelial stem cell transplantation for severe ocular surface disorders and cultivated corneal endothelial cell injection therapy for corneal endothelial failure as corneal regenerative medicine. His group also proved the clinical efficacy of Rho-associated protein kinase (ROCK)-inhibitor topical application for partial endothelial dysfunction, aiming at the development of novel therapies for corneal endothelial dysfunction.
Kinoshita is a recipient of the 1999 Alcon Research Institute Award, the 2008 Castroviejo Medal Lecturer of the Cornea Society, the Doyne Memorial Lecturer of the 2011 Oxford Ophthalmological Congress in United Kingdam, Charles D. Kelman Inovator Award, ASCRS 2015, the Friedenwald Award Lecturer at the ARVO 2016, The Coster Lecture at the Australian and New Zealand Cornea Society 2017, David Easty Lecture at the Bowman's Club 2017, and the Plenary Lecturer of the 8th World Cornea Congress 2022. He served as the ARVO Trustee of the Cornea Section between 2006 and 2011. He has been the president of the Japanese Society of Tissue Transplantation since 2019.
Financial disclosure: Dr. Kinoshita has/had an affiliation (financial or otherwise) with a commercial organization:
Aerie Pharmaceutical Co.

Aurion Biotechnologies

CorneaGen

KOWA

Kyoto Prefectural University of Medicine

Senju Pharmaceutical Co.
Sessions in which Shigeru Kinoshita, MD, PhD participates
Québec City Convention Centre - Room 306 AB | Salle 306 AB
8:00 AM - 10:00 AM | 2 hours

 Learning Objectives:At the end of this session, participants will be able to:Elucidate the caus...
9:35 AM - 9:55 AM | 20 minutes Part of: Current Concepts II
Keynote Speaker | Invité.e d'honneur
Québec City Convention Centre - Room 308 B | Salle 308 B
10:45 AM - 12:15 PM | 1 hour 30 minutes

 Learning ObjectivesAt the end of this session, participants will be able to:Describe how cultur...

Talk | Exposé